---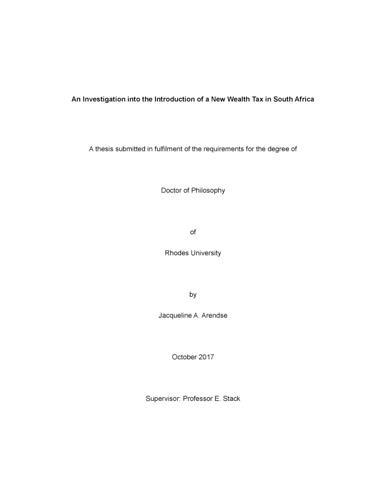 An investigation into the introduction of a new wealth tax in South Africa
Authors: Arendse, Jacqueline A
Date: 2018
Subjects: Wealth tax -- Law and legislation -- South Africa , Taxation -- Law and legislation -- South Africa , Income tax -- South Africa , Fiscal policy -- South Africa , South Africa -- Economic conditions , Income distribution -- South Africa
Language: English
Type: text , Thesis , Doctoral , PhD
Identifier: http://hdl.handle.net/10962/61379 , vital:28020
Description: In a world of economic uncertainty and manifold social problems, South Africa has its own unique challenges of low economic growth, persistent budget deficits that produce increasing government debt and the highest level of economic inequality in the world. The history of injustice and economic marginalisation and the failure of the economy to provide inclusive growth drives an urgent need to address economic inequality through tax policy, placing ever more focus on wealth taxes as a possible solution. There is a hope is that taxing the wealthy may provide the opportunity to redistribute desperately-needed resources to those denied the opportunity to build wealth and who are trapped in the cycle of poverty. Yet, as appealing as a new wealth tax may seem, the introduction of such a tax carries with it a range of risks, not all of which are known. Of great concern is the possible effect on the economy, which, in its vulnerable state, cannot afford any loss of capital and investment. Very little research has been done on wealth tax in the South African context and there is a dearth of literature focusing on the views and perceptions of the wealthy individuals themselves. This qualitative study investigates the merits and disadvantages of a new wealth tax and seeks to identify any unintended consequences that could result from the implementation of a new wealth tax in South Africa, drawing from historical and international experience and primary data obtained from interviews with individuals likely to be affected by such a tax. Having explored the literature and international experiences with wealth tax and having probed the thinking of wealthy individuals who would be the payers of a wealth tax, the study finds that a new wealth tax may contribute towards the progressivity of the tax system, but it is doubtful whether such a tax would provide a sustainable revenue stream that would be sufficient to address economic inequality and there is a risk of causing harm to the economy. Recognising that the motivation for wealth taxes is often driven more by political argument and public perception than by rational quantitative analysis, the study also anticipates the introduction of a new wealth tax and suggests guidelines for the design of such a tax within the framework for evaluating a good tax system. This study informs the debate on wealth taxes in South Africa and contributes to the design of such a tax, should it be implemented.
Full Text:
Date Issued: 2018
---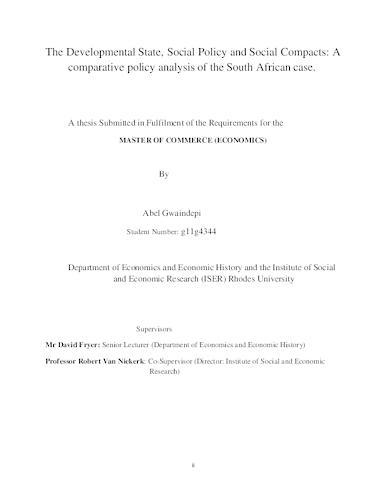 The developmental state, social policy and social compacts: a comparative policy analysis of the South African case
Authors: Gwaindepi, Abel
Date: 2014
Subjects: Economic development -- Political aspects -- South Africa , Income distribution -- South Africa , Democracy -- South Africa , Industrial policy -- Developing countries , South Africa -- Economic conditions , South Africa -- Social conditions
Language: English
Type: Thesis , Masters , MCom
Identifier: vital:1101 , http://hdl.handle.net/10962/d1013278
Description: The history of economic thought is 'flooded' with neo-classical accounts despite the fact that neoclassical economics did not occupy history alone. This has caused the discourses on 'lost alternatives' to be relegated as the deterministic 'straight line' neo-classical historical discourses are elevated. Globally hegemonic neo-classical discourse aided this phenomenon as it served to subordinate any counterhegemonic local discursive processes towards alternatives. This study is premised on the theme of non-neoclassical 'lost alternatives' using the post-apartheid South Africa as a case study. Emerging from the apartheid regime, the impetus towards non-neoclassical redistributive policies was strong in South Africa but this did not gain traction as the ANC's 'growth through redistribution' was replaced by globally hegemonic discourse which favoured 'redistribution through growth'. This thesis postulates the idea of two waves of 'internal' discursive formations; capturing the transition to democracy up to 1996 as the first wave and the period from 2005 to about 2009 as the second wave. The developmental state paradigm (DSP) emerged as the central heterodox paradigm with ideas such as industrial policy, welfare, and social dialogue/compacts being main elements. The DSP was expressly chosen in the early 1990s, the first period of strong internal discursive formation, but faded as neo-classical policies, epitomised through GEAR, dominated the policy space. The DSP discourse gained vitality in the second wave of internal discursive formation (2005-2009) and it was associated with the subsequent Zuma's administration. The study illustrates that the DSP has failed to be fully developed into a practical framework but remained only at rhetorical level with the phrase 'developmental state' inserted into government policy documents and documents of ANC as a ruling party. The thesis further illustrates that the DSP fared well ideologically because of its inclination to the ideology of 'developmentalism' tended to trump any socialist inclined policies such as a generous welfare regime. The thesis rebuts the notion of the DSP in South Africa which has only been amorphously developed with the phrase 'developmental state' becoming a mere buzzword. The thesis argues that the DSP in the 21st century is much more complex and the growing 'tertiarisation' of the economy makes the Social Democratic Paradigm SDP's capability centric approach much more relevant for South Africa. The study goes further to argue that a (SDP) is much more suitable alternative for addressing South African colonial/apartheid legacies and consolidation of democracy.
Full Text:
Date Issued: 2014
---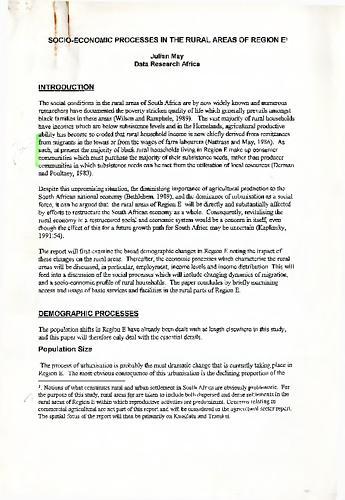 Socio-economic processes in the rural areas of Region E
Authors: May, Julian
Date: 19--?
Subjects: Poverty -- South Africa , Income distribution -- South Africa , Household surveys -- South Africa , Rural poor -- South Africa , South Africa -- Rural conditions
Language: English
Type: text , book
Identifier: http://hdl.handle.net/10962/75421 , vital:30416
Description: The social conditions in the rural areas of South Africa are by now widely known and numerous researchers have documented the poverty stricken quality of life which generally prevails amongst black families in these areas (Wilson and Ramphele, 1989). The vast majority of rural households have incomes which are below subsistence levels and in the Homelands, agricultural productive ability has become so eroded that rural household income is now chiefly derived from remittances from migrants in the towns or from the wages of farm labourers (Nattrass and May, 1986). As such, at present the majority of black rural households living in Region E make up consumer communities which must purchase the majority of their subsistence needs, rather than producer communities in which subsistence needs can be met from the utilisation of local resources (Derman and Poultney, 1983). Despite this unpromising situation, the diminishing importance of agricultural production to the South African national economy (Bethlehem, 1989), and the dominance of urbanisation as a social force, it can be argued that the rural areas of Region E will be directly and substantially affected by efforts to restructure the South African economy as a whole. Consequently, revitalising the rural economy in a restructured social and economic system would be a concern in itself, even though the effect of this for a future growth path for South Africa may be uncertain (Kaplinsky, 1991:54). The report will first examine the broad demographic changes in Region E noting the impact of these changes on the rural areas. Thereafter, the economic processes which characterise the rural areas will be discussed, in particular, employment, income levels and income distribution. This will feed into a discussion of the social processes which will include changing dynamics of migration, and a socio-economic profile of rural households. The paper concludes by briefly examining access and usage of basic services and facilities in the rural parts of Region E.
Full Text:
Date Issued: 19--?
---