---
Graduation ceremony photographs
Authors: Nyokong, Tebello
Date: 2010-2012
Type: still image
Identifier: vital:7232 , http://hdl.handle.net/10962/d1006503
Description: Photographs taken of Prof Tebello Nyokong's students during different graduation ceremonies 2010 - 2012.
Full Text:
Date Issued: 2010-2012
---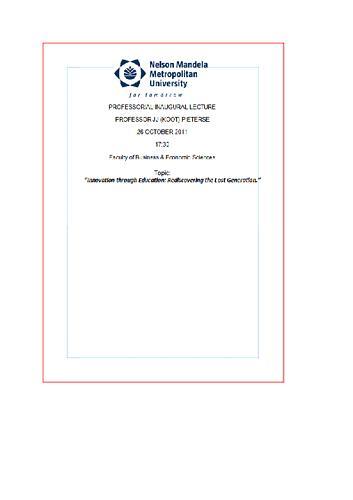 Innovation through education: rediscovering the lost generation
Authors: Pieterse, Koot
Subjects: Business incubators , Entrepreneurship , f-sa
Language: English
Type: text , Lectures
Identifier: http://hdl.handle.net/10948/20889 , vital:29411
Description: Innovation implies the generation as well as the practical implementation of new ideas. These ideas could appear as new product opportunities, new markets or new management systems and business schools are ideally situated to promote their exploitation and implementation. This study emphasises the need for business schools to elevate innovation to one of the core values in their mission. The need for innovation in the local business environment is explored along with reasons why these opportunities have not always been pursued with the required vigour. The results of a literature study are represented, that demonstrate what initiatives on the incorporation of innovation into their activities have been taken by a selection of business schools around the world and the study is concluded by exploring similar opportunities open to the Business School of the Nelson Mandela Metropolitan University.
Full Text:
---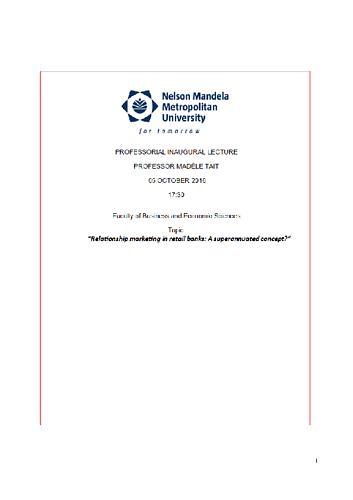 Relationship marketing in retail banks: superannuated concept?
Authors: Tait, Madele
Subjects: Relationship marketing , Banks and banking , f-sa
Language: English
Type: text , Lectures
Identifier: http://hdl.handle.net/10948/20923 , vital:29418
Description: All business is based on relationships. The firm only has to make them meaningful for its customers – provided that the customers want this (Grönroos 1994). Relationship marketing concerns the facilitation and managing of the relationships between the business and its customers and was developed as a response to the realisation that businesses were spending vast resources in time and money to attract new customers but very little on retaining existing ones. Relationship marketing is particularly relevant when a customer has alternative service providers to choose from, when the customer makes the selection decision and when there is an ongoing desire or need for a product or service, such as in the banking industry (Morgan & Hunt 1999).
Full Text:
---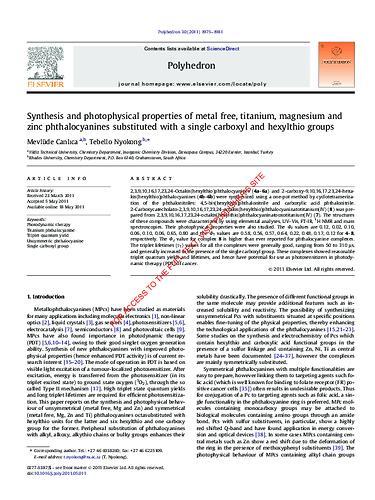 Synthesis and photophysical properties of metal free, titanium, magnesium and zinc phthalocyanines.pdf
Identifier: http://hdl.handle.net/10962/247023 , vital:51538
Description: 2,3,9,10,16,17,23,24-Octakis(hexylthio)phthalocyanines (4a–6a) and 2-carboxy-9,10,16,17,23,24-hexakis(hexylthio)phthalocyanines (4b–6b) were synthesized using a one-pot method by cyclotetramerization of the phthalonitriles: 4,5-bis(hexylthio)phthalonitrile and carboxylic acid phthalonitrile. 2-Carboxycatecholato-2,3,9,10,16,17,23,24-octakis(hexylthio)phthalocyaninatotitanium(IV) (8) was prepared from 2,3,9,10,16,17,23,24-octakis(hexylthio)phthalocyaninatooxotitanium(IV) (7). The structures of these compounds were characterized by using elemental analyses, UV–Vis, FT-IR, 1H NMR and mass spectroscopies. Their photophysical properties were also studied. The ΦF values are 0.12, 0.02, 0.10, 0.06, 0.10, 0.06, 0.65, 0.80 and the ΦT values are 0.58, 0.56, 0.57, 0.64, 0.22, 0.48, 0.17, 0.12 for 4–8, respectively. The ΦF value for complex 8 is higher than ever reported for phthalocyanine complexes. The triplet lifetimes (τT) values for all the complexes were generally good, ranging from 50 to 310 μs, and generally increased in the presence of the single carboxyl group. These complexes showed reasonable triplet quantum yields and lifetimes, and hence have potential for use as photosensitizers in photodynamic therapy (PDT) of cancer.
Full Text:
Date Issued: 2011
---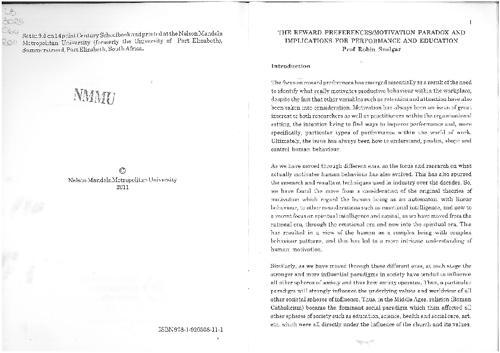 The reward preference/motivation paradox and implications for performance and education
Authors: Snelgar, Robin
Subjects: Employee motivation , Incentive (Psychology) , f-sa
Language: English
Type: text , Lectures
Identifier: http://hdl.handle.net/10948/21897 , vital:29799
Description: The focus on reward preference has emerged essentially as a result of the need to identify what really motivates productive behaviour within the workplace, despite the fact that other variables such as retention and attraction have also been taken into consideratin. Motivation has always been an issue of great interest to both reserachers as well as practitioners within the organizational setting, the intention being to find ways to improve performance and, more specifically, particular types of performance within the world of work. Ultimately, the issue has always been how to understand, predict, shape and control human behaviour.
Full Text: false
---